Must-have apps 2016
13 Mar 2017
At the end of each year (or three months into the following one) I like to reflect on my favourite apps from the past twelve months. I recently switched from an iPhone to a Google Pixel, so the mobile section of this post will be about Android apps instead of iOS for a change.
I'm only including apps I haven't talked about in previous posts, so as to not waste time repeating myself. You can read about my must-have apps from 2015 here and 2014 here.
Mac
I'm currently using a 15" MacBook Pro I bought second-hand from a friend. My MacBook Air wasn't keeping up with my iOS development sessions so I upgraded to a beefier computer that could do the job.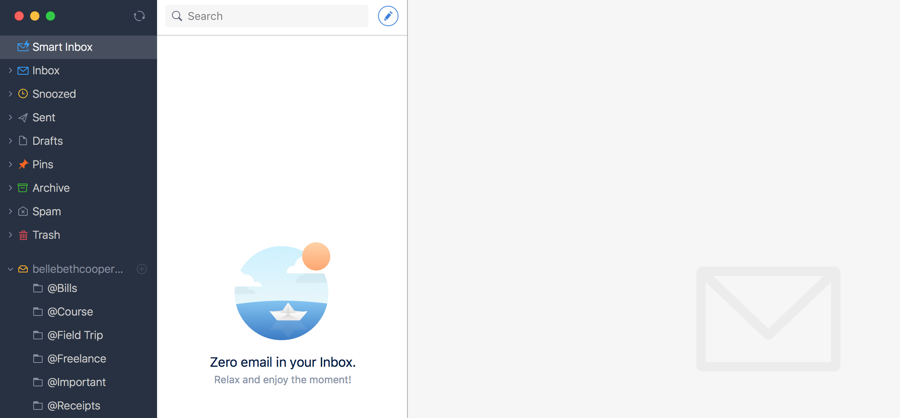 Since Sparrow was shut down I've struggled to find a mail client for Mac that looks good and fits my needs. Spark is the best one to have come along in ages. I really like how clever it is about organising emails into folders (it offers suggestions that are usually spot-on), since I do this a lot. It also looks great, and offers built-in snoozing for messages I don't want to see in my inbox until I can deal with them.
It's still early for Spark on Mac, so there are some improvements to come (for instance, no cmd+k shortcut to add a link drives me nuts), but it does the job for now and I'm using it every day.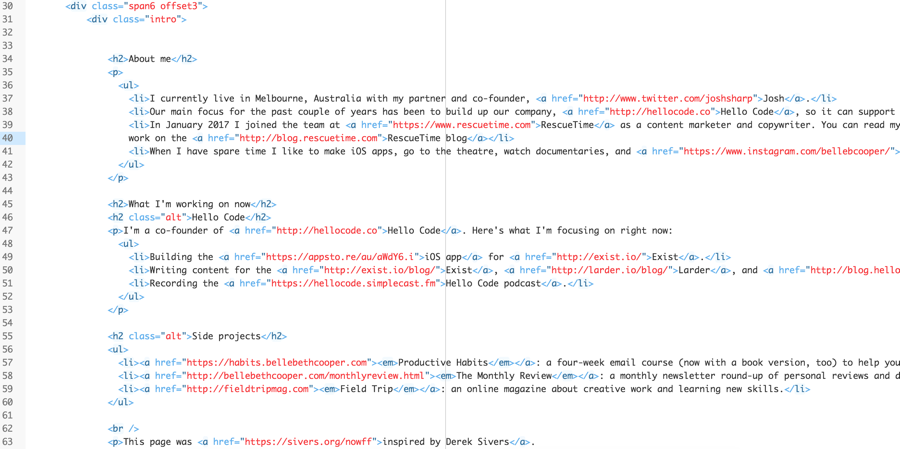 Atom is my go-to for any basic text editor needs. I use it for opening and editing HTML files, in particular, or fixing merge conflicts in my iOS projects.

Perhaps the best notes app I've ever used. I really love this app, and I'm so bummed that it's not available on Android now that I've switched from iOS. It's so good that I'm still using it on my Mac for notes I don't need access to on my phone.
Android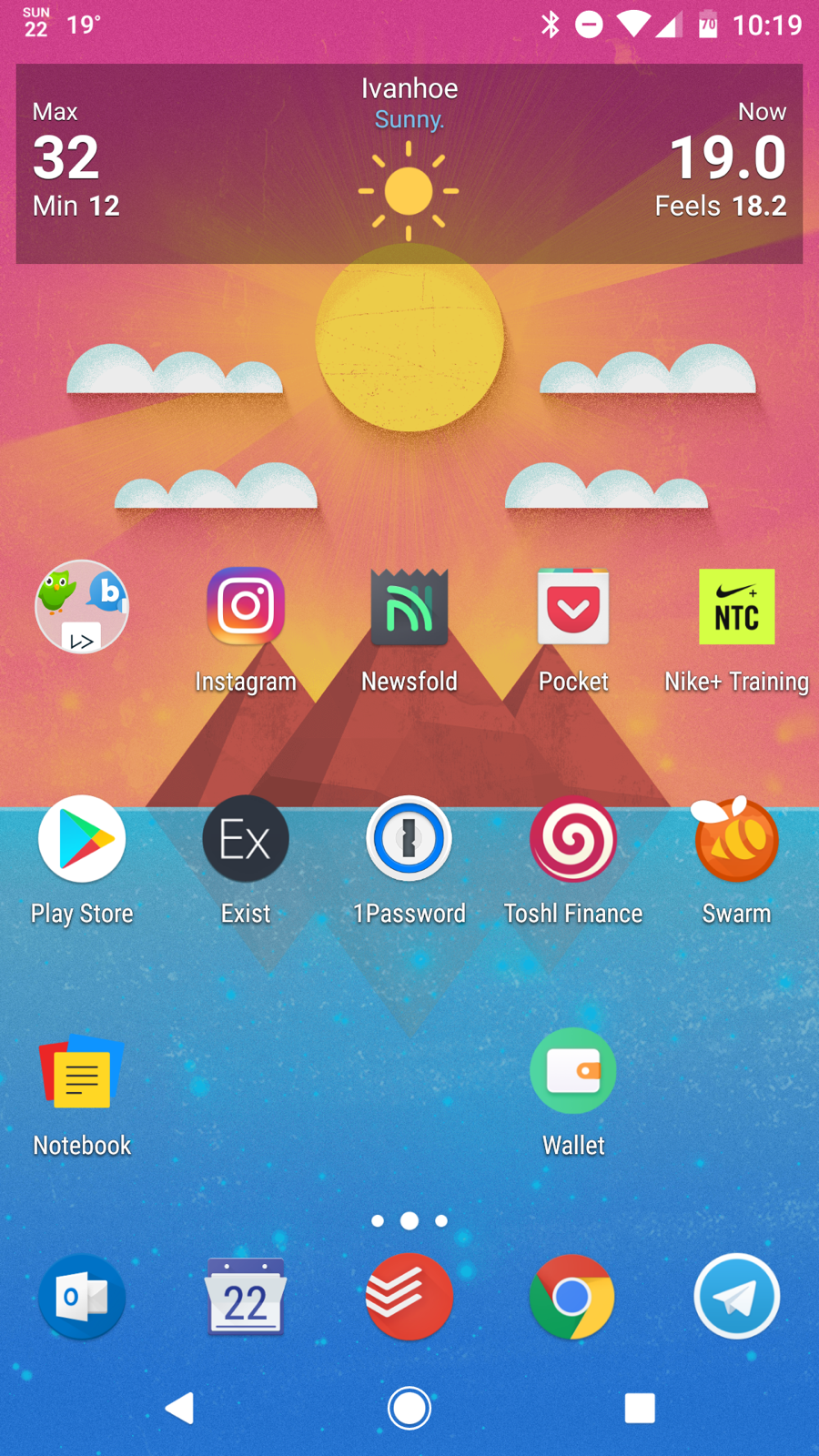 I have a 128GB Very Black Pixel phone and I love it. There's so much to love about Nougat Android, and the apps (the dearth of which led me back to iOS a few years ago) have improved quite a bit, especially as more developers adopt material design.
There are still some areas where high-quality, well-designed apps are lacking on Android that I'd love to see improve. For me the main sore spots are a notes app like Bear, better clients for Gmail, and better RSS options, particularly apps that sync with services like Feed Wrangler.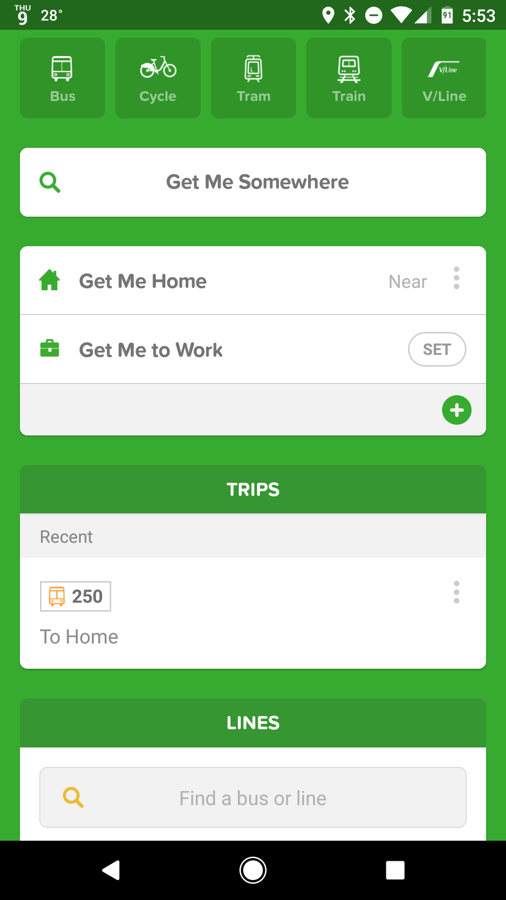 I use both of these apps for transport info, depending on my needs. Nobody's ever made the perfect app for my transport needs around my own city, but CityMapper was great for me when I was staying in London, because it could quickly tell me how to get where I wanted to go and how to get home. Being a local means I have different needs (i.e. I don't want to give up as much control to the app when planning trips) but both of these are fairly useful for finding out timetables of different stops. I also really like the feature both of them have that lets me share my planned trip with someone. When I'm on my way home and it's going to take a while, this is a handy way to tell Josh what time to expect me and let him check in on my progress with live updates rather than asking me where I'm at.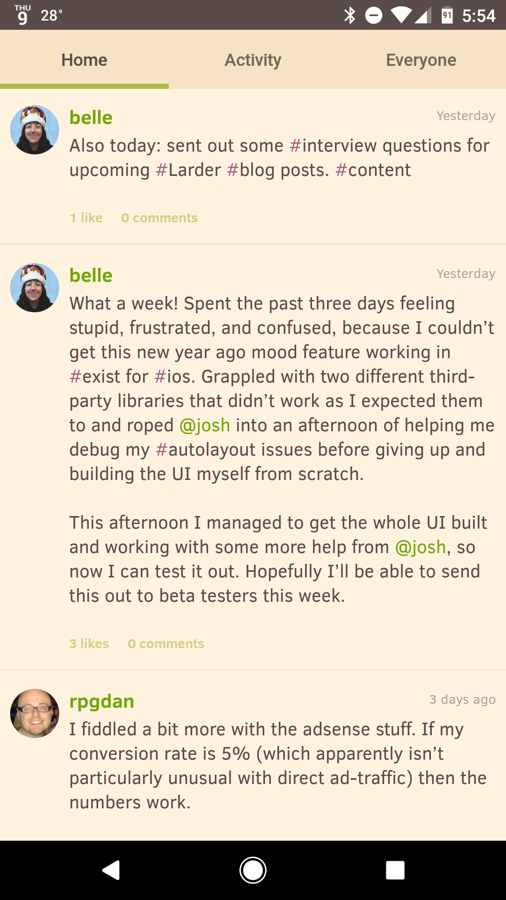 Being on Android means I can now take advantage of Josh's hard work on Hello Code apps, rather than waiting for my own slow progress to get apps onto my phone. The Android Littlelogs client is one app I've found really useful since switching, as my iOS version is a lot further behind in development. (Note: this app isn't available publicly yet, but Littlelogs is responsive so you can use it in your phone's browser.)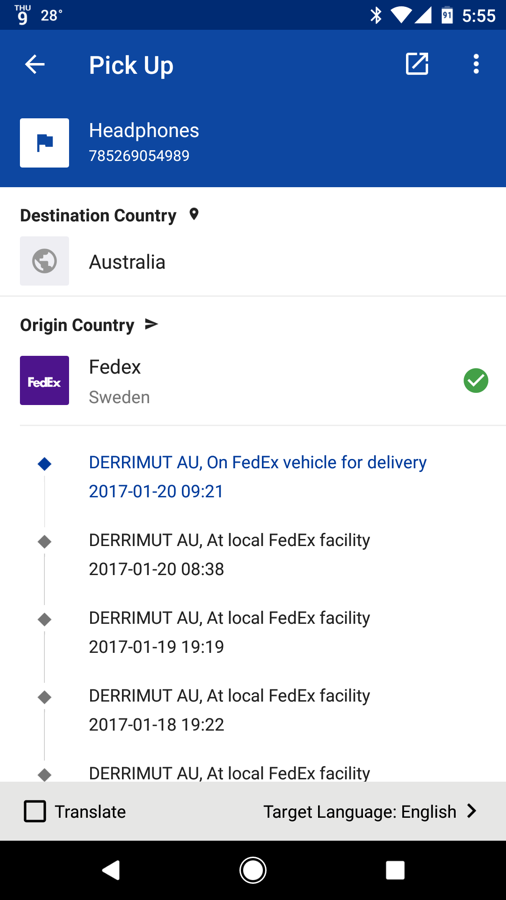 I used Deliveries on iOS and really liked it, but I was impressed to find that 17Track on Android does an even better job of finding tracking numbers that Deliveries won't recognise. I use this to keep an eye on packages I've ordered and would be lost without it.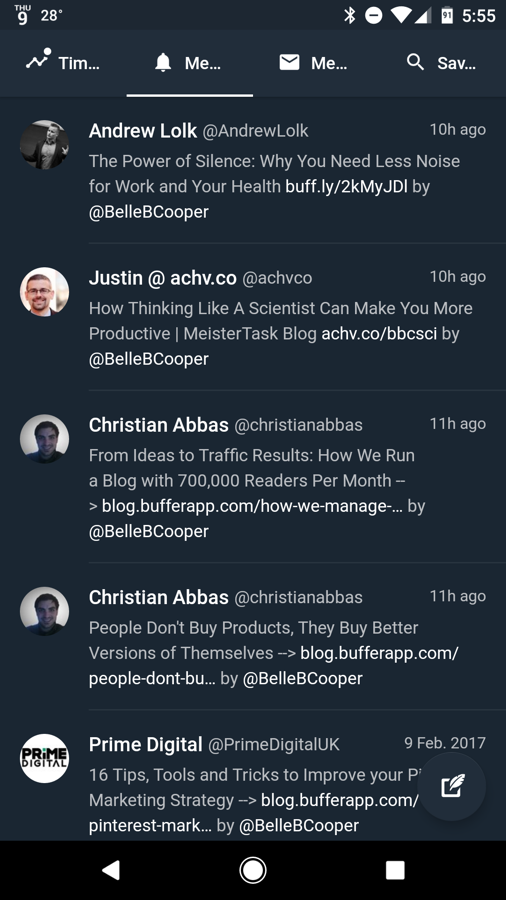 This seems to be one of the Android Twitter clients that's closest in design to Tweetbot. Having used Tweetbot for years, I didn't want a big hurdle in learning a new design for my Twitter client on Android, especially since I use Twitter very rarely these days. This app fits the bill nicely.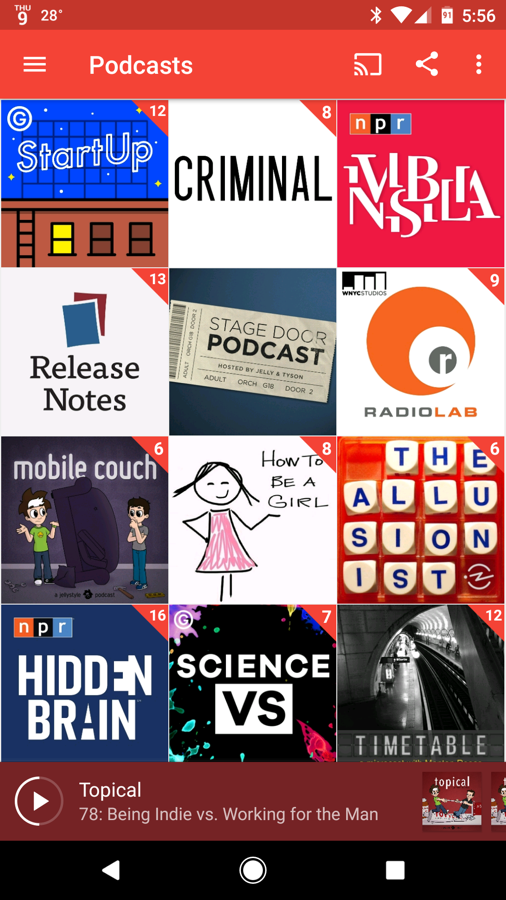 I'd used Pocket Casts on iOS before, but there's more choice when it comes to iOS podcast players so I'd experimented with quite a few. When switching to Android it was a much simpler choice to grab Pocket Casts and stick with it.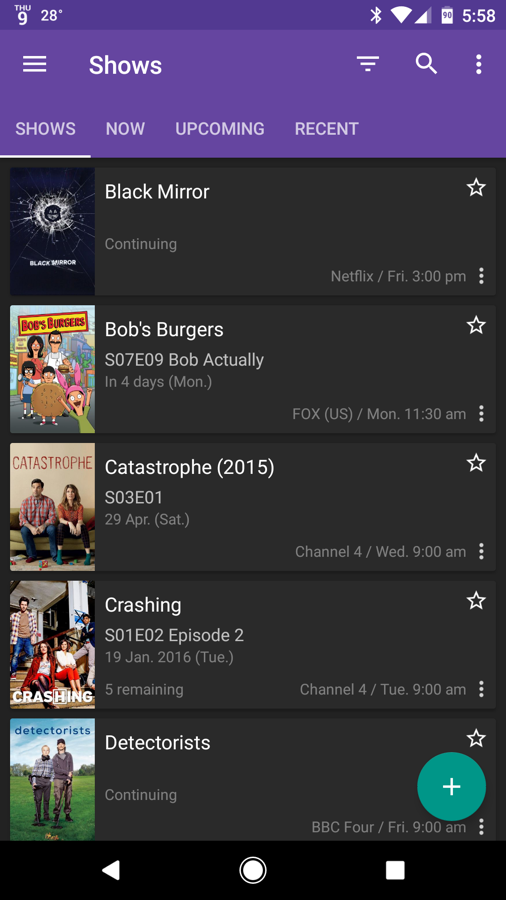 It took some time for me to figure out how this app works, because the Trakt.tv integration is really confusing. It's not really a Trakt client, which is what I expected, but rather can sync your lists from Trakt so you can pull shows from those lists into the app. The movies section, just to be more confusing, works like a Trakt client for films.
Despite how confusing the app is, it lets me keep a watchlist and keep track of what I've watched, and syncs to Trakt. It looks good, and it's pretty much the only Android app that handles both movies and TV that isn't ugly or broken.
Not a great looking app, but it does the job. Like Numi on my Mac, I need a utility app on my phone to help me quickly convert currencies because they're so often in USD.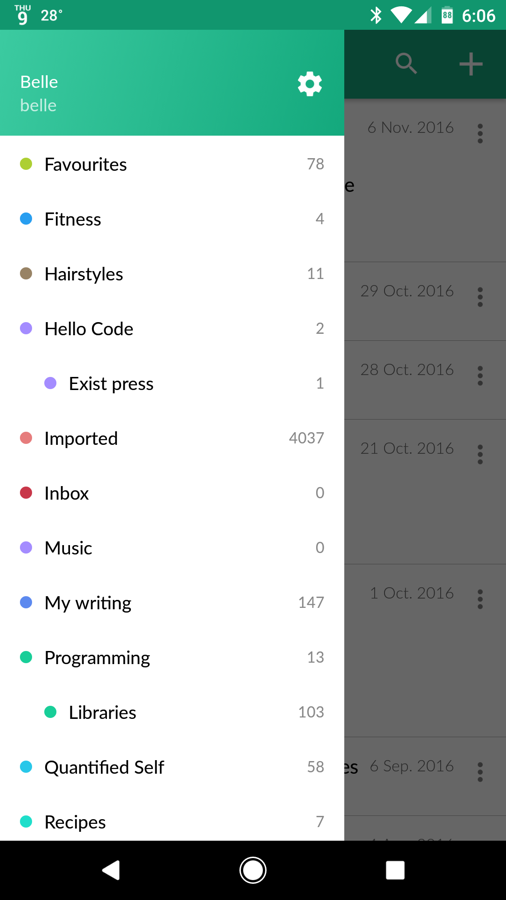 Another of Josh's apps that I haven't caught up to on iOS is the Larder client for Android. I use Larder for all my bookmarking needs and love it, so it's a relief to have a solid client for it on my phone now.
Chrome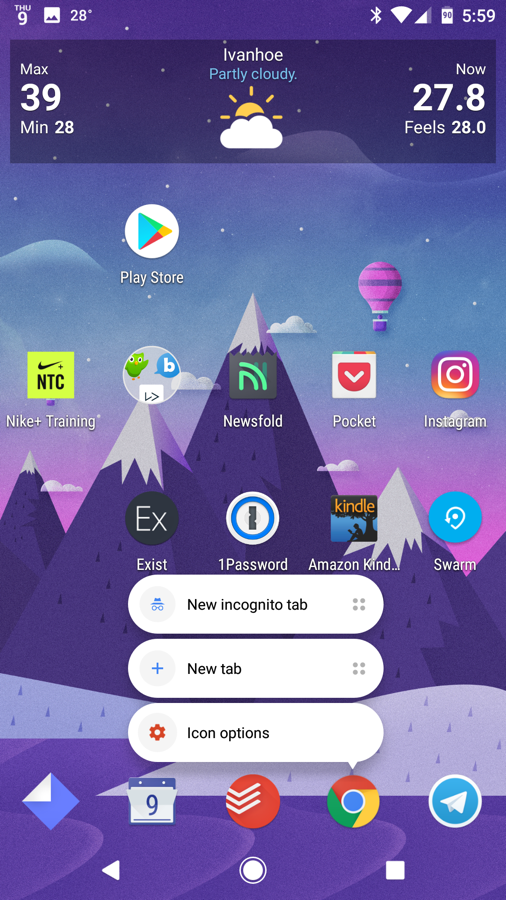 I'm not a big fan of Chrome these days, but one thing I knew I'd miss terribly from iOS is the 3D Touch shortcut on the Safari icon to open a new tab. Thankfully Android introduced app icon shortcuts (basically the same thing, though you don't have to press hard into the screen as you do with 3D Touch) but Chrome is the only browser that supports an icon shortcut to open a new tab so far. I use this so often that it's worth choosing the browser that offers it just so I don't lose that shortcut.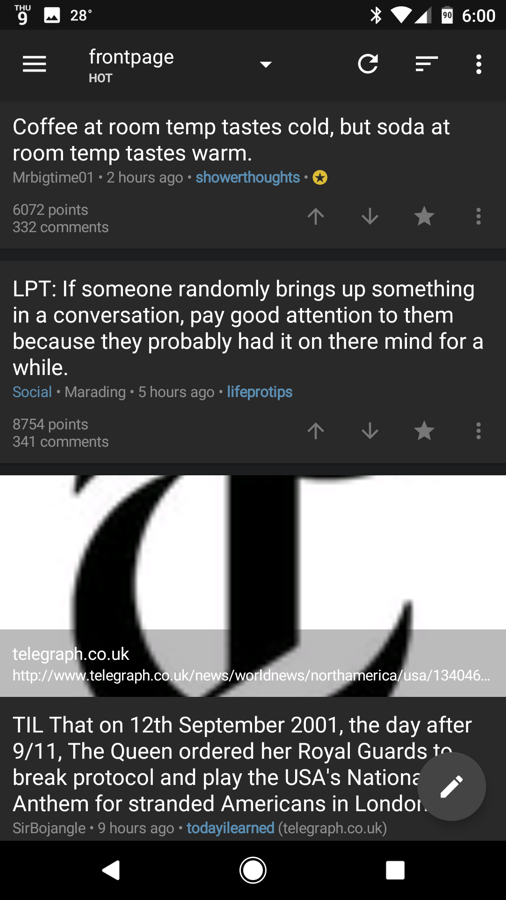 I was really happy with Narwhal as my iOS Reddit client, so again I simply looked for the closest analogue on Android. There were a couple of contenders, but I quite like the design of Sync Pro and the UX does the job, so I'm sticking with this one.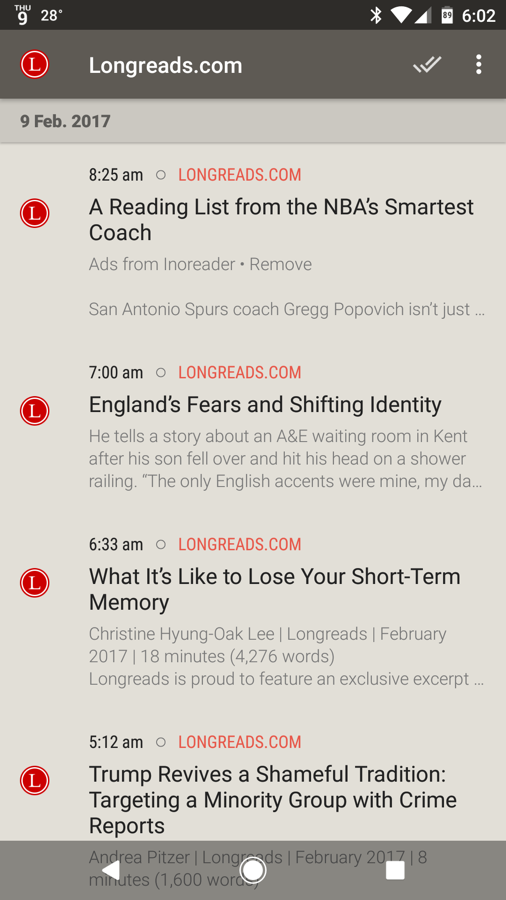 There aren't many good-quality RSS readers on the Play Store, especially if you don't use Feedly as your RSS service. I was using Press, which is the only app I could find for Android that supports Feed Wrangler, my RSS service of choice. Press hasn't been updated in two years, though, and its UI is a bit outdated and awkward.
Newsfold is definitely more modern and nicer to use, but it only offers Inoreader and Feedly as sync services. I have a lot of reservations about Feedly, and even more since giving in and trying to use it as my RSS sync service for Android, so I'm stuck with Inoreader. The service itself isn't too bad, but Newsfold has had some nasty syncing issues with Inoreader where read article show up as unread again after several hours and new unread articles never show up in the app at all. I'm hoping the developer will improve the syncing so I can stick with this app, because it's definitely the best contender for something close to Unread, which I loved using on iOS.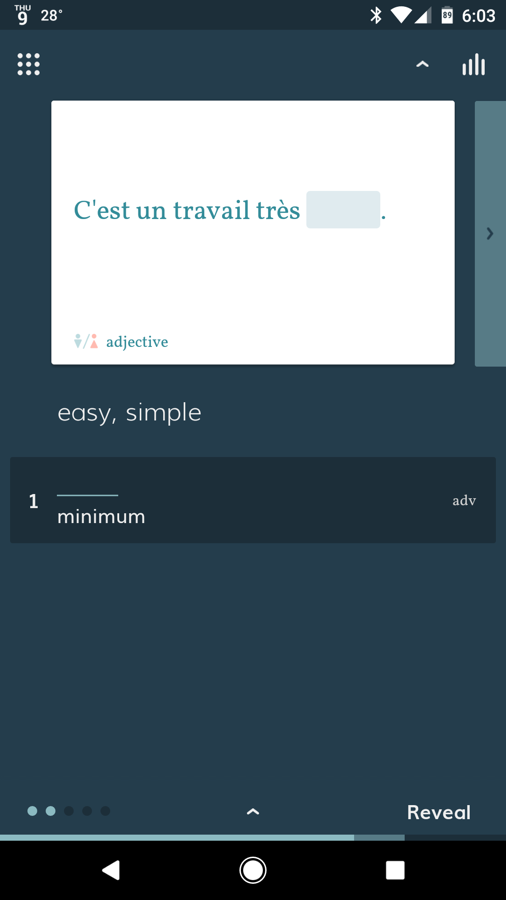 I've been using Duolingo for years to do a little French practice every day, but I like using other apps sometimes as well, just for variety. Lingvist can get a bit repetitive but it's useful for picking up new vocabulary.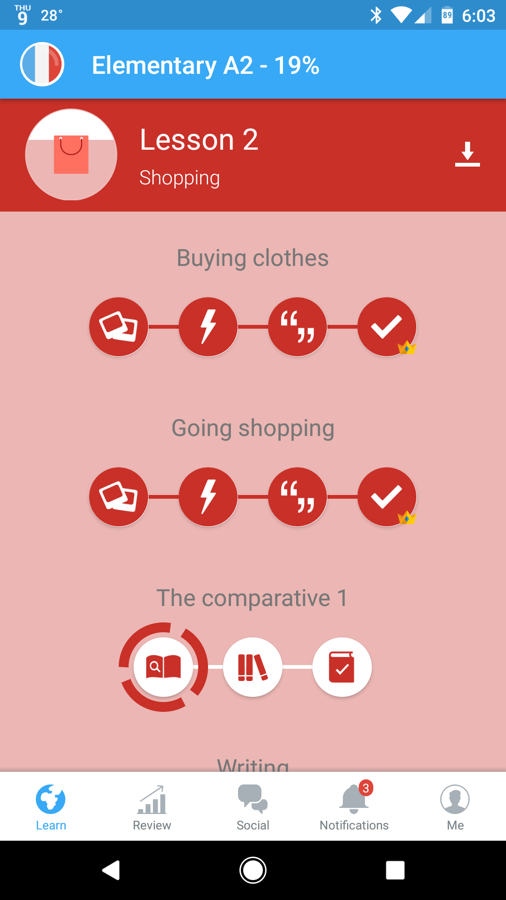 I recently bought a subscription for the Busuu app and started working through a full lesson each morning. They take around 20-30 minutes and include vocabulary, listening, reading, and writing exercises. The app also includes McGraw-Hill certificates and tests, so I was able to recently take (and pass!) the A1 level French test.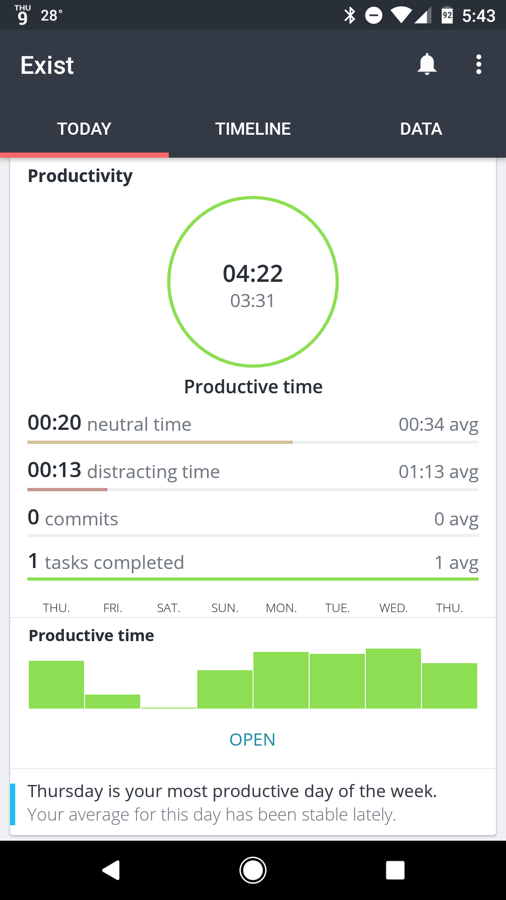 The last of Josh's Hello Code apps that I'm now using on Android is the Exist Android client. Josh is a lot faster at Android development than I am at iOS, so there are some extra features in the Android app I didn't get to use before, such as extra 8-day graphs of your data on the Today tab.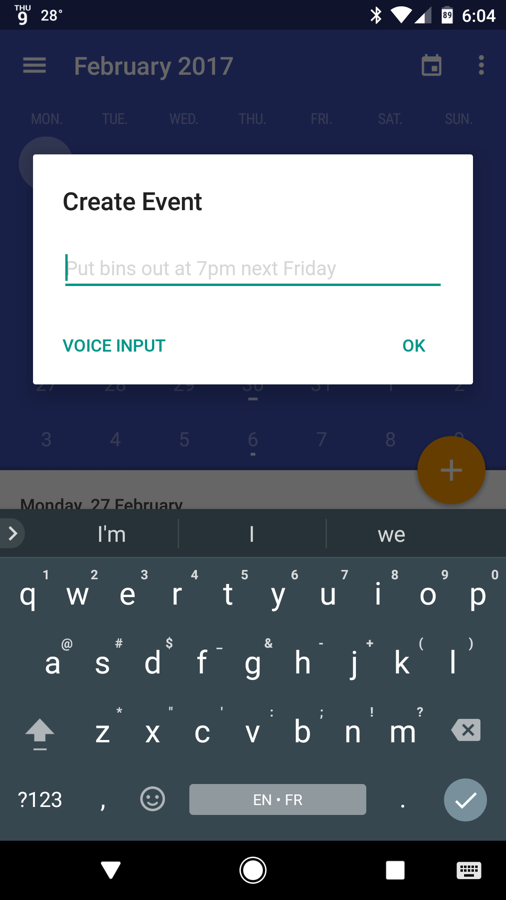 Having used Fantastical on my Mac and iPhone for years, I wanted a Google Calendar app for Android with natural language parsing. Today Calendar not only offers the features I want, but it looks great, too.
---